Magnetic Particle (MT) Equipment
AC ELECTROMAGNETIC YOKE: S/N # 2694
The Y-1 is an AC electromagnetic yoke and the new generation of light weight, ergonomically designed yokes that improve job performance and productivity by reducing operator arm and wrist fatigue when testing in tight, confined and overhead areas. Provides a portable means of creating AC magnetic fields for the detection of surface indications during magnetic particle testing.
Lightweight, less than five pounds, and ergonomic with a molded grip and trigger on/off switch, the Y-1 has impact and chemical-resistant construction. Includes a robust strain-relieved ten-foot cord and carrying grommet for convenience in field use.
Applications
Benefits & Features
Ergonomic, light-weight design
Soft-grip, angled body for better positioning
Exceeds ASTM lifting specifications
Steel shields for leg protection
Durable rugged construction
Oil and abrasion resistant power cord
Individual serial number for each yoke
Specification: ASME BPVC, ASTM E709, ASTM E1444, ASTM E3024
Ideal for:
Field testing
Difficult to reach areas
Spot inspections
In-service inspections
Weld inspection
Defect examples:
Seams
Tears
Shrink cracks
Grinding cracks
Quenching cracks
Fatigue cracks

MAGNETIC PARTICLE TEST BAR: S/N #17880
Test bar contains coarse and fine surface and subsurface defects in both directions. Meets or exceeds most industrial and military standards for artificial test specimens.
Specifications
ASME BPVC
ASTM E709
ASTM E1444
The magnetic particle Pie Gauge is used as an aid in determining the direction of magnetic fields for detection of discontinuities in ferrous metals.
Specifications
ASME BPVC
ASTM E709
ASTM E1444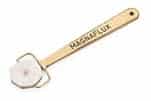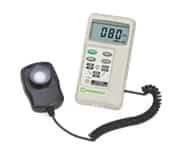 VISIBLE LIGHT METER: S/N# 160202896
Measures visible light in foot-candles or lux
The Visible Light Meter accurately measures visible light in either foot-candles or lux and includes a permanently affixed visible light sensor specially constructed to measure visible white light in the range of 400-760 nm for non-destructive testing.
Benefits
Photo diode sensor
400-760 nm range for ASTM E2297
+/-5% accuracy for NADCAP requirements
Accurately measures visible white light emission
Range selection 0 to 2,000 ft-candles / 0 to 20,000 lux
Adjustable digital readout ranges: 20, 200 & 2,000 ft-candles or 200, 2,000 & 20,000 lux
Measures UV-A Light Irradiance
The UV-A Meter is a compact, rugged, easy to operate, digital radiometer for measuring and calibrating UV-A black light sources used in fluorescent penetrant testing and fluorescent magnetic particle inspections for non-destructive testing.
Benefits
320-400 nm range for ASTM E2297
+/-5% accuracy for NADCAP requirements
Accurately measures ultraviolet light emission from UV-A lamps
Low battery warning
Range selection options: x1, x10, x100 and x1,000
Data holding capabilities
UV-365 sensor (320–400 nm)
Back-lit 4-digital LCD display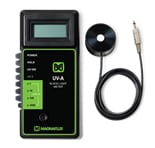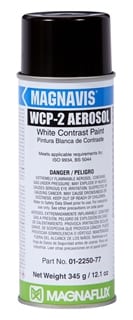 WCP-2:  provides a high contrast background to improve probability of detection and sensitivity during visible magnetic particle inspections. This bright, white contrast paint is applied prior to inspection so when non-florescent / colored magnetic particles are applied, the indications appear clearly against the opaque white background.
WCP-2 can be used with all types of colored and visible mag particles, including 7HF or 7C Black wet method particles, or #2 Yellow, #8A Red or #3A Black dry method magnetic powders.
Benefits

Provides good background contrast
Fast drying
Convenient, ready to use formula

Specifications: ISO 9934
Applications Ideal for:

Field testing
Spot inspections
In-service inspections
7HF is a highly-sensitive oil-based magnetic particle suspension aerosol for nonfluorescent (visible) wet method magnetic particle testing. 7HF provides clear, strong indications and are ideal for locating fine and medium discontinuities on finished parts. It is ideal for field testing, spot inspections and places where bulk processing is impractical.
7HF is often used with WCP-2 white contrast paint to improve contrast and inspection sensitivity. This process is ideal for remote inspections of tubing, piping, and large structures.
Benefits
Clear indications under visible light
Heavy particle buildup for quick detection
Great particle mobility
Protects parts and equipment against corrosion
Broad spray pattern provides even surface coverage over large areas
Superior surface wetting ensures higher probability of detection
Specifications
AMS 3043
ASTM E709
ASTM E1444
ASME
Boeing PS-21201
ISO 9934
MIL-STD-2132
NAVSEA 250-1500-1
Applications: Defect location: surface and slightly subsurface
Defect examples:
Inclusions
Seams
Shrink cracks
Tears
Laps
Flakes
Welding defects
Grinding cracks
Quenching cracks
Fatigue cracks